Gate valve (TH-GTV)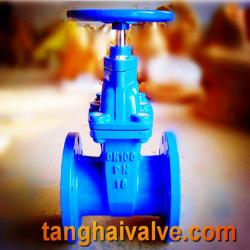 Model Number: TH-GTV
Brand Name: THV
Place of Origin: Tianjin, China
Minimum Order Quantity: 10sets
Supply Capacity: 1000sets/month
Payment: T/T
MemberShip: Free Member

Bookmark & Share:
TH-GTV Gate valve (TH-GTV) Description
A gate valve is a gate plate of an opening and closing part. The movement direction of the gate plate is perpendicular to the direction of the fluid. The gate valve can only be fully opened and fully closed, and cannot be adjusted or throttled. The gate valve is sealed by the contact of the valve seat and the gate plate. Usually, the sealing surface will be welded with metal materials to increase wear resistance, such as 1Cr13, STL6, stainless steel, etc. The gate has a rigid gate and an elastic gate. According to the different gate plates, the gate valve is divided into a rigid gate valve and an elastic gate valve.
Area of application
Marine industry, Water supply & drainage, fire fighting, shipbuilding, water treatment, power stations, energy, food, chemical, and other systems
Data sheet of gate valve:
TYPE:Wafer, double flangeSIZE & CONNECTIONS:Resilient seated: DN50 to D600
Metal seated: DN50 to DN1200MEDIUM:Waste water, Water, Seawater, Air, Inert Gas, Oil.MATERIALS:Cast Iron / Ductile Iron/ Carbon Steel / Stainless
Steel / Alu BronzePRESSURE RATING:PN10, PN16, PN25TEMPERATURE:-30°C to 200°CSEAT/LINING:Replaceable Liner / Bonded Liner
NBR/EPDM/VITON; SS/BRONZECERTIFICATES & APPROVALS:DNV-GL, Lloyds, DNV, ABS, BV Type Approval
3.1 & 3.2 Cert (on request)
Standards
Design and Manufacture Conform to AWWA, BS5163, DIN-F4,F5
Dimensions Conform to EN1092-2,ANSI B16.5
Face to Face dimensions Conform to EN558-1, API 594, DIN3202
Testing Conform to EN12266-1, API598
Material of gate valve Parts
PART NAMEMaterialBODYCast Iron; Ductile Iron; Stainless Steel; Carbon steelDISC / FLAPStainless Steel; Carbon steel; BronzeSHAFT / STEMBrass, Stainless Steel Monel; Stainless Steel InconelSEAT / LININGNBR/EPDM/VITON
SS/BRONZEBOLTSCarbon steelNUTSStainless steelGASKET/PACKINGGraphiteNAME PLATEAluminumWASHERSteelHANDWHEELCast IronBUSHING/RINGCast Brass
Actuation
Worm-gear/hand-wheel
Electric-actuator
Pneumatic-actuator
Hydraulic-actuator
Gate valve features
Advantages:
Low flow resistance.
Less effort when opening and closing.
Large height and long opening and closing time.
Water hammer phenomenon is not easy to produce. The reason is the long shutdown time.
The medium can flow in any direction on both sides, easy to install.
The structure length is small.
The shape is simple, the structure length is short, the manufacturing process is good, and the application range is wide.
The structure is compact, the valve has good rigidity, the channel is smooth, the flow resistance is small, the sealing surface is made of stainless steel and hard alloy, and the service life is long. The use of PTFE packing is reliable and easy to operate.
Disadvantages
The overall dimensions and opening height are large. The space required for installation is large.
During the opening and closing process, there is relative friction between the sealing surfaces, which can easily cause scratches.
Gate valves generally have two sealing surfaces, adding some difficulties to processing, grinding and maintenance.
Related types of valves:
We can also produce check valve, globe valve, knife gate valve and ball valve with API, JIS, DIN standard, used in Oil, Gas, Marine industry, Water supply and drainage, fire fighting, shipbuilding, water treatment and other systems, with Nominal Diameter of DN50 to DN1200, NBR/EPDM/VITON, Certificates & Approvals: DNV-GL, Lloyds, DNV, BV, API, ABS, CCS. Standards: EN 593, API609, API6D,
More video of gate valve, please see: -LT1dy2sU