Brass Water Pressure Regulator Valve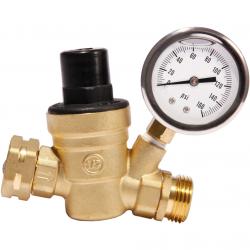 Model Number: JD-JYF0052
Brand Name: OEM
Place of Origin: Zhejiang, China
Minimum Order Quantity: 100
Supply Capacity: 10000/month
Payment: T/T, D/P, L/C, Paypal, Western Union
MemberShip: Free Member

Bookmark & Share:
JD-JYF0052 Brass Water Pressure Regulator Valve Description
Material: lead-free copper
Connection: Thread
Applicable medium: water
Nominal diameter: DN20
Structure: straight-through
Pressure environment: atmospheric pressure
Operating temperature: -10 ℃ ≤ t ≤ 120 ℃
Standard: GB
Direction of flow: Unidirectional
Drive: Manual
Thread: Bsp thread
Maximum psi: 160 psi
Turn all taps on before installing the valve to flush the
system and expel any air remaining in the pipes.
2. Install shut-off valves upstream and downstream of the
pressure reducing valve to facilitate future maintenance
operations. The upstream valve may have a check valve
incorporated.
3. The pressure reducing valve can be installed both on
vertical and horizontal pipes.
The upside-down installation is
forbidden.
4. Close downstream shut-off
valve.
5. Calibrate it by turning the
screw on the top of the plastic
cover.
Turn it clockwise to increase
the pressure and anticlockwise
to decrease it.
6. Adjust until the correct pressure is read on the pressure
gauge. Series 533. reducing valve are factory set at 3 bar.
Maintenance
Proceed as follows for periodic cleaning of the strainer and inspection or replacement of the cartridge:
1 Shut off the reducing valve
Unscrew (anticlockwise) the calibrating screw to decompress the spring inside.
Unscrew the cover.
Extract the cartridge with the aid of pliers on the hexagonal part.
5 The cartridge can be fitted back into the valve after inspection and cleaning or alternatively a replacement cartridge can be fitted.
6 Recalibrate the reducing valve.
| | |
| --- | --- |
| Material | lead-free copper |
| Connection | Thread |
| Applicable medium | water |
| Nominal diameter | DN20 |
| Structure | straight-through |
| Pressure environment | atmospheric pressure |
| Operating temperature | -10 ℃ ≤ t ≤ 120 ℃ |