YW Submerged sewage pump for wastewater drainage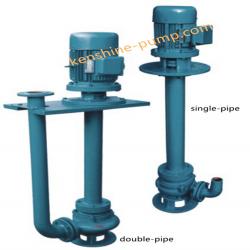 Model Number: 50YW20-40-7.5kw
Brand Name: kenshine-pump
Place of Origin: Shanghai, China
Minimum Order Quantity: 1
Supply Capacity: 600sets per month/month
Payment: T/T in advance
MemberShip: Free Member

Bookmark & Share:
50YW20-40-7.5kw YW Submerged sewage pump for wastewater drainage Description
The impeller of YW submerged pump adopts a single or double flow channel type, which can effectively transport liquids containing solid particles and long fibers. It has the characteristics of energy conservation, high efficiency, anti-winding, and non-clogging.
The mechanical seal adopts a dual channel series seal, made of hard and wear-resistant tungsten carbide, which is durable and wear-resistant
The pump can be equipped with an automatic liquid level control cabinet according to user needs, which can automatically control the start and stop of the pump according to the required liquid level changes.
The pump is a vertical structure, and the pump body is immersed in liquid during operation, with a depth of up to 0.5-7 meters underwater
The pump and motor are connected by a coupling, and the pump can be installed with single or double pipes. The supporting parts (installation plates) have circular and square plates
YW Submersible wastewater pump is Suitable for conveying granular wastewater and pollutants in industries such as chemical, petroleum, pharmaceutical, mining, papermaking, cement plants, steelmaking plants, power plants, coal processing industries, as well as urban sewage treatment plants, municipal engineering, construction sites, and other industries. It is also used for pumping clean water and corrosive liquids.
| | |
| --- | --- |
| flow rate | 2-1500m3/h |
| head | 3-50m |
| pump material | cast iron or stainless steel |
| submersible pump | submerged pump |
| immersible pump | sewage pump |
| wastewater pump | drainage pump |
| sump pump | vertical centrifugal pump |
| kenshine-pump | china pump |