VSP corrosion resistant self-priming pump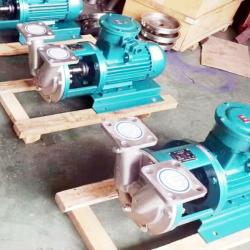 Model Number: VSP-50A
Brand Name: kenshine-pump
Place of Origin: Shanghai, China
Minimum Order Quantity: 1set
Supply Capacity: 600sets per month/month
Payment: T/T in advance
MemberShip: Free Member

Bookmark & Share:
VSP-50A VSP corrosion resistant self-priming pump Description
Corrosion resistant self-priming pump
VSP self-priming pump is composed of a pump body, pump cover, rotor assembly, and power component. The rotor assembly is installed in the pump cavity composed of the pump body and pump cover, and the power component drives the rotor assembly to rotate. Through the rotation of the rotor assembly in the pump cavity, the volume of the sealing chamber changes, quickly generating a vacuum degree to absorb materials.
Characteristics of VSP strong self-priming pump
VSP self-priming pump has super strong suction force and a wide range of liquid viscosity. It can be used with volatile solvents and high viscosity oil adhesives. Barreled and filled liquids can be pumped and sucked clean, with a suction cleanliness higher than that of vacuum units. Moreover, when a barrel of material is emptied and inserted into the next barrel, it can be sucked up in just one second. The self-priming time is extremely short, at 3 meters/2 seconds, while other self-priming pumps have a cavitation resistance performance of over 3 meters/180 seconds. And the structure is simple, with fewer components, easy installation, easy maintenance, and long service life.
1. Strong self-suction ability: unique and innovative structure, with a suction height of 8.2 meters.
2. Short self-priming time: 3 meters/2 seconds, 5 meters/8 seconds, 8 meters/15 seconds.
3. Wide pumping range: can pump volatile solvents to high viscosity liquids.
4. Strong anti cavitation performance: capable of pumping liquid from high vacuum containers.
VSP Self-priming pump usage
1.Extraction and transportation of various low specific gravity and volatile solvent solutions.
2. Barreled liquid extraction and transportation, with light and clean suction (replacing bucket pumps and vacuum pump units)
3. Extract and absorb the residue inside the tank.
4. Extraction and cleaning of sludge at the bottom of the tank and tank.
5. Chemical industries such as agriculture, pharmaceuticals, and intermediates.
6. Extraction and transportation of high viscosity liquids in industries such as daily chemicals and oil products.
7. Brewery related industries such as beer and yellow rice wine.
8. Food related industries such as dairy and dairy products.
| | |
| --- | --- |
| flow rate | 2-25m3/h |
| head | 8-15m |
| pump material | stainless steel, PP plastic |
| self priming pump | chemical pump |
| industrial pump | stainless steel pump |
| plastic pump | suction pump |
| corrosion resistant pump | strong self-priming pump |
| kenshine-pump | china pump |