Surface centrifugal pump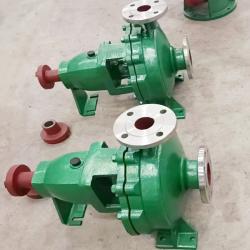 Model Number: IH50-32-125
Brand Name: kenshine-pump
Place of Origin: Shanghai, China
Minimum Order Quantity: 1set
Supply Capacity: 600sets per month/month
Payment: T/T in advance
MemberShip: Free Member

Bookmark & Share:
IH50-32-125 Surface centrifugal pump Description
Surface centrifugal pump
Surface water pump refers to a pumping device installed on the ground, whose main function is to pump groundwater, river water, lake water, etc. to household, agricultural, and industrial purposes. Compared to submersible water pumps, surface water pumps are simpler to install and more convenient to use. The structure of the surface water pump may also vary depending on the usage situation.
Structure of surface water pump
The ground water pump mainly consists of a motor, casing, impeller, mechanical seal, coupling, bracket, and other parts. The motor and casing are the main supporting parts of the surface water pump, the impeller is the key part of the pump water, the mechanical seal is very important for the pump water seal, and the coupling plays a transmission role. The bracket is designed to ensure the stability and safety of the ground water pump.
Usage of surface water pumps
The use of surface water pumps is very simple. Firstly, choose a suitable installation location, preferably a flat and close ground to the water source. Then follow the instructions to install the ground water pump, connect the power supply and inlet/outlet, and finally turn on the power supply.
Maintenance of ground water pumps
The surface water pump needs regular maintenance during use to ensure its normal operation. Specifically, it includes the following aspects:
1. Regularly check whether the motor and casing of the surface water pump are loose or damaged;
2. Regularly clean the inlet and outlet of the surface water pump to prevent pump holes from being blocked;
3. Regularly replace the mechanical seal to ensure the water seal of the pump;
4. Regularly inspect the impeller and coupling of the surface water pump for any abnormalities;
If the ground water pump is not used for a long time, it should be dismantled, cleaned, and stored in a dustproof and moisture-proof manner in a timely manner.
Vertical or horizontal structure
Close coupled type or shaft coupled type
Centrifugal or self- priming etc.
Pump material: metal (cast iron, stainless steel, duplex stainless steel etc), plastic (polypropylene/PP, fluoroplastic /F46/FEP/PTFE/PVDF etc.)
Pump is widely used in industries to transfer /pump different fluids/liquids
| | |
| --- | --- |
| flow rate | 2-1500m3/h |
| head | 5-80m |
| pump material | metal, plastic |
| sewage pump | chemical pump |
| industrial pump | centrifugal pump |
| stainless steel pump | corrosion resistant pump |
| self priming pump | water pump |
| kenshine-pump | china pump |