Multistage centrifugal booster pump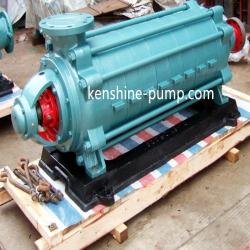 Model Number: DG46-50*8
Brand Name: kenshine-pump
Place of Origin: Shanghai, China
Minimum Order Quantity: 1set
Supply Capacity: 300sets per month/month
Payment: T/T in advance
MemberShip: Free Member

Bookmark & Share:
DG46-50*8 Multistage centrifugal booster pump Description
Multistage centrifugal high-pressure pump
Multistage pump is a pump with two or more impellers. It is the centrifugal pump which can achieve suction, compression, and exhaust by changing the volume of the pump chamber. Therefore, multistage pump is a variable volume centrifugal pump.
Multistage centrifugal pump combines the inlet and outlet sections with the middle section through a pull rod. Its output water pressure can be very high, and it also relies on the rotation of the impeller to obtain centrifugal force. As a result, the pumped medium or material is extracted when the gas density reaches the working range of the mechanical vacuum pump, gradually obtaining a high vacuum. (Maximum head exceeding 125meters).  Single stage pump is a pump with only one impeller and maximum head of only 125 meters.
The basic structure of a multi-stage pump is composed of components such as the inlet section, outlet section, middle section, tail cover, impeller, pump body, pump shaft, bearing, sealing ring, stuffing box, etc.
Multistage pumps can be used in many industrial sectors such as petroleum, chemical, mechanical, mining, light industry, pharmaceuticals, and food etc.
Multistage pump can be vertical or horizontal structure and pump material can be cast iron or stainless steel to suitable to transfer different fluids.
| | |
| --- | --- |
| flow rate | 2-300m3/h |
| head | 600m |
| pump material | cast iron or stainless steel |
| centrifugal pump | multistage pump |
| industrial pump | booster pump |
| circulation pump | transfer pump |
| boiler pump | feed water pump |
| kenshine-pump | china pump |