IJ corrosion resistant chemical pump for alkali liquid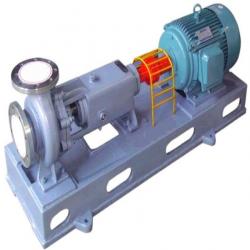 Model Number: IJ80-50-200
Brand Name: kenshine-pump
Place of Origin: Shanghai, China
Minimum Order Quantity: 1set
Supply Capacity: 600sets per month/month
Payment: T/T in advance
MemberShip: Free Member

Bookmark & Share:
IJ80-50-200 IJ corrosion resistant chemical pump for alkali liquid Description
Corrosion resistant chemical pump for alkali liquid
IJ type single stage single suction cantilever chemical centrifugal pump is a new product optimized and designed based on the IH series chemical pump, referring to the latest foreign technology and combining with the actual use of users. Its rated performance and installation size comply with the ISO2858 standard, and its manufacturing technical conditions comply with the ISO5199 standard. It is mainly suitable for the transportation of slurry with a solid content less than 50% and crystal impurities in chemical processes.
Compared with IH pumps,
the structure of IJ chemical pumps has the following characteristics:
1. Shortened the cantilever of the impeller and thickened the diameter of the shaft;
2. Asymmetric cross-section volutes and pump casings without mouth rings;
3. Three imported bearings are used;
4. Equipped with a new type of seal similar to foreign advanced double face mechanical seals or packing seals.
Due to the above structure, the pump has the following advantages:
1. It can transport high viscosity or solid containing media, and the efficiency of the pump is higher than that of the IH chemical pump;
2. The asymmetric cross-section volute reduces the impact loss of fluid and shortens the size of the pump casing;
3. Increasing the strength of the shaft reduces the deflection of the rotor, resulting in stable operation and long sealing life;
4. The impeller nut is integrated with the impeller, improving the inlet conditions of the pump and enhancing the anti cavitation performance of the pump;
5. Advanced shaft seal form ensures better sealing effect and reduces pump leakage;
6. The clearance of the pump can be adjusted without disassembling the pump casing and impeller, reducing maintenance time and saving maintenance costs.
Applicable fields: alkali production, salt chemical industry, petrochemical industry, paper mills, pulp industry, refineries, coal chemical industry, power plants, pharmaceutical industry, sugar industry, steelmaking plant, water treatment coating industry (degreasing, phosphating, electrophoresis and other processes)
| | |
| --- | --- |
| flow rate | 2-400m3/h |
| head | 3-125m |
| pump material | SS304,SS316,SS316L |
| centrifugal pump | chemical pump |
| industrial pump | stainless steel pump |
| corrosion resistant pump | alkali pump |
| pulp pump | transfer pump |
| kenshine-pump | china pump |