Fully Welded Ball Valve with Gearbox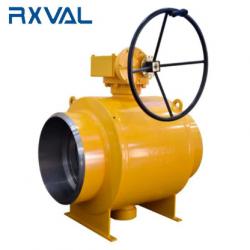 Model Number: RXV040
Brand Name: RXV
Place of Origin: Zhejiang, China
Minimum Order Quantity: 1
Supply Capacity: 10T/month
Payment: T/T,Paypal
MemberShip: Free Member

Bookmark & Share:
RXV040 Fully Welded Ball Valve with Gearbox Description
RXVAL Produce fully welded ball valve with advanced valve seat, Anti flying structure of valve rod ,Anti static function,Fire resistant structure,The fully welded ball valve adopts the most advanced support plate structure at home and abroad, which improves the service life of the valve, reduces the operating torque of the valve and greatly extends the service life of the valve.
Technical Features
1. The valve body structure is welded integrally without external leakage.
2. The valve seat is composed of PTFE sealing ring and spring, which has strong adaptability to the change of pressure and temperature, and will not produce any leakage within the scope of use.
3. The anti leakage structure of the valve rod. There is one PTFE self sealing gasket and one O-ring at the bottom of the valve rod. There are two O-rings and two PTFE gaskets on the bottom to ensure no leakage.
4. The material of valve body is the same as that of pipeline, and there will be no stress unevenness, and it will not be squeezed and deformed due to earthquake and when the vehicle passes the ground.
5. The valve body is light and easy to keep warm.
6. The directly buried ball valve can be directly buried in the ground, without building a large valve well, only a small shallow well on the ground, greatly saving construction costs and project time.
7. The length of the valve body and the height of the valve stem can be adjusted according to the construction and design requirements of the pipeline.
8. The machining accuracy of the sphere is very precise, easy to operate and free of bad interference.
9. There are two connection modes: welding and flange.
10. Operation mode: handle, gear (vertical / horizontal)
11. Under normal operation and use of the valve, the warranty period is 20 years.
| | |
| --- | --- |
| Port type | Full Port or Reduce Port |
| Connection | Weld on Body |
| Design | Fire Safe Design |
| Butt Weld Ends | ASME B16.25 |
| API | Ball valve |