FSB fluorine plastic anti-acid pump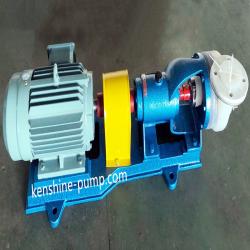 Model Number: 40FSB-30L
Brand Name: kenshine-pump
Place of Origin: Shanghai, China
Minimum Order Quantity: 1set
Supply Capacity: 600sets per month/month
Payment: T/T in advance
MemberShip: Free Member

Bookmark & Share:
40FSB-30L FSB fluorine plastic anti-acid pump Description
Fluorine plastic anti-acid pump
Single stage single suction Cantilever centrifugal pump
The flow components are all made of fluoroplastic, and the pump body is lined with polytetrafluoroethylene propylene (F46),Equipped with WB2 series external mounted PTFE corrugated pipe mechanical seal. The pump has the advantages of strong corrosion resistance, with high mechanical strength, non- aging, and no toxin decomposition.
FSB fluorine plastic pump is mainly suitable for transporting acids, alkalis, salts, strong oxidizing agents, and other corrosive media with any concentration for a long time,
Application:
The pump is widely used in industries such as petroleum, chemical, pharmaceutical, pesticide, pickling, dyes, paint, smelting, papermaking, electroplating, food, etc
1. Acid resistant type: suitable for conveying various strong acids or mixtures of acids and solvents.
2. Alkali resistant type: suitable for conveying alkaline clear liquids or mixtures of alkaline liquids and solvents.
3. Explosion proof type: suitable for conveying flammable and explosive liquids, equipped with explosion-proof motors.
FSB-D type: Closed couple & FSB-L type: shaft coupling type
| | |
| --- | --- |
| flow rate | 2-100m3/h |
| head | 5-50m |
| pump material | F46/fluorine plastic |
| chemical transfer pump | acid circulation pump |
| dosing chemical pump | industrial centrifugal pump |
| fluorine plastic centrifugal pump | corrosion resistant pump |
| anti-corrosion pump | acid unloading pump |
| kenshine-pump | china pump |