F46 chemical pump magnetic drive coupling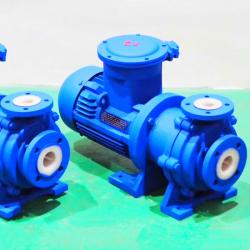 Model Number: CQB50-32-160F
Brand Name: kenshine-pump
Place of Origin: Shanghai, China
Minimum Order Quantity: 1set
Supply Capacity: 600sets per month/month
Payment: T/T in advance
MemberShip: Free Member

Bookmark & Share:
CQB50-32-160F F46 chemical pump magnetic drive coupling Description
PTFE chemical pump magnetic drive coupling
The anti leakage design of the fluoroplastic magnetic drive pump eliminates the shaft seal and utilizes magnetic coupling to indirectly drive, eliminating the problem of dripping and never polluting the working site. Due to the selection of "fluoroplastic alloy" for the overflow part of the pump, the pump can continuously transport corrosive media such as acids, alkalis, and strong oxidizing agents with any concentration. The liquid contact part is made of fluoroplastic F46/FEP/PTFE, but the pump casing is made of metal material, so the pump body is sufficient to withstand the weight of the pipeline and mechanical impact.
Fluorine plastic magnetic drive pumps are widely used in industries such as petrochemical, acid and alkali production, non-ferrous metal smelting, acid washing processes in automobile manufacturing, rare earth separation, pesticides, dyes, pharmaceuticals, papermaking, electroplating, radio, etc. Usage temperature: -20 ℃ to 100 ℃.
| | |
| --- | --- |
| flow rate | 1-100m3/h |
| head | 3-50m |
| pump material | fluorine plastic FEP/F46 |
| chemical pump | magnetic pump |
| industrial pump | acid pump |
| corrosion resistant pump | no leakage pump |
| unloading pump | loading pump |
| kenshine-pump | china pump |