CLZ Self-priming vertical centrifugal ballast pump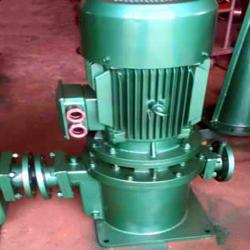 Model Number: 125CLZ-23A
Brand Name: kenshine-pump
Place of Origin: Shanghai, China
Minimum Order Quantity: 1set
Supply Capacity: 200sets per month/month
Payment: T/T in advance
MemberShip: Free Member

Bookmark & Share:
125CLZ-23A CLZ Self-priming vertical centrifugal ballast pump Description
CLZ Self-priming vertical centrifugal ballast pump
CLZ Series pump is a single stage single suction vertical centrifugal marine pump, especially with built-in self-priming device. No need to equip with Extra water ring or air ejector vacuum pump for self-priming.
Self-priming principle
Pump casing is provided with liquid storage chamber insides, which is connected with pump casing through return port and circulation port. When pump starting, storage liquid is be tossed up along with air, and air will be discharged outside of pump.
Self-suction head is about 4 to 5 meters. It takes about 2 to 3 minutes for self-priming. Self-priming pumps are particularly suitable for frequent starts, stops, and situations where the liquid level is below the centerline of the pump.
CLZ pumps are suitable as the fire-flighting pump, bilge pump, ballast pump, general service pump and cooling pump to transport seawater, fresh water, and other non- corrosive liquid media with a temperature not exceeding 80 degrees Celsius.
CLZ Series marine vertical self-priming centrifugal pump has the advantages of small volume, light weight, good self-priming performance, convenient installation, and operation etc.
| | |
| --- | --- |
| flow rate | 2-1500m3/h |
| head | 5-80m |
| pump material | cast iron/bronze/stainless steel |
| vertical self-priming pump | centrifugal vertical pump |
| marine pump | seawater pump |
| ballast pump | bilge pump |
| industrial pump | bronze impeller pump |
| kenshine-pump | china pump |