Centrifugal water pump horizontal split case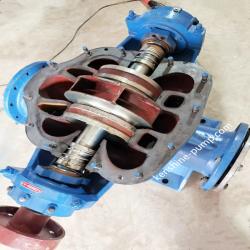 Model Number: 200S95
Brand Name: kenshine-pump
Place of Origin: Shanghai, China
Minimum Order Quantity: 1set
Supply Capacity: 300sets per month/month
Payment: T/T in advance
MemberShip: Free Member

Bookmark & Share:
200S95 Centrifugal water pump horizontal split case Description
centrifugal water pump horizontal split case
Main characteristics of Single stage double suction centrifugal pump is large flow rate and high head of the conveying medium. The impeller is installed inside the pump casing and fastened to the pump shaft, which is directly driven by the motor. Pump cover and pump body are horizontally split.
Application
It is for centrifugal clean water pump and suitable for industrial and urban water supply and drainage pumps. It can be used as a drainage or water supply pump for factories, cities, power stations, water conservancy projects, etc., and can also be used for farmland irrigation. S, SH series pump is an efficient and energy-saving product with the characteristics of simple structure and excellent performance. For transporting clean water or other liquids with physical and chemical properties similar to water that do not contain solid particles, the temperature of the medium being transported is 0 ℃~80 ℃, and the allowable inlet pressure is 0.6MPa.
| | |
| --- | --- |
| flow rate | 80-6000m3/h |
| head | 10-100m |
| pump material | cast iron or stainless steel |
| centrifugal pump | water pump |
| horizontal pump | transfer pump |
| circulation pump | drainage pump |
| irrigation pump | booster pump |
| kenshine-pump | china pump |