AH high chromium wear-resistant alloy liner slurry pump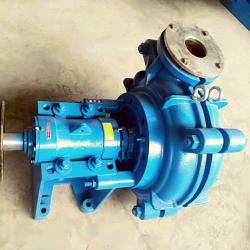 Model Number: 3/2C-AH
Brand Name: kenshine-pump
Place of Origin: Shanghai, China
Minimum Order Quantity: 1set
Supply Capacity: 300sets per month/month
Payment: T/T in advance
MemberShip: Free Member

Bookmark & Share:
3/2C-AH AH high chromium wear-resistant alloy liner slurry pump Description
AH type horizontal wear-resistant slurry pump is a horizontal, vertical, and double pump shell structure slurry pump. The pump body and pump cover are equipped with replaceable metal liners made of high chromium wear-resistant alloy material, which can be used until worn through, extending maintenance cycles, and reducing operating costs. The outlet direction of the pump can be rotated and installed at 8 angles.
AH wear-resistant slurry pump is a cantilever and horizontal centrifugal slurry pump. It is Suitable for conveying strong corrosion and high concentration slag slurry in industrial sectors such as metallurgy, mining, coal, power, building materials, etc. This type of pump can also be used in multi-stage series.
Pump body of the AH pump has replaceable wear-resistant metal liner or rubber lining, and the impeller is made of wear-resistant metal or rubber material. The inner lining and impeller of the AHH pump are only made of wear-resistant metal.
Shaft seal of the AH pump can be either a packing seal or a centrifugal seal. The outlet position of the pump can be installed and used by rotating eight different angles at 45 degree intervals as needed.
Bearing component: The bearing component of the pump adopts a cylindrical structure, which is convenient for adjusting the clearance between the impeller and the front guard plate. It can be removed during maintenance. The bearings are lubricated with grease.
Shaft seal (seal): The shaft seal types of pumps include packing seal, auxiliary impeller seal, and mechanical seal.
Transmission methods: V-belt transmission, elastic coupling transmission, gear reducer transmission, hydraulic coupling transmission, variable frequency drive device, thyristor speed control, etc. The V-belt transmission includes CL, CV, CR, ZL, ZV, and ZR transmissions.
AH type slurry pump:
For high concentration and highly corrosive slag slurry, the flow rate range is 40-80%
For medium concentration, the flow range of medium corrosive slurry is 40-100%
For low concentration and low corrosiveness slag slurry, the flow rate range is 40-120%
| | |
| --- | --- |
| flow rate | 3-3000m3/h |
| head | 5-70m |
| material | high chromium alloy |
| sewage pump | slurry pump |
| wastewater pump | industrial pump |
| chemical pump | pulp pump |
| drainage pump | centrifugal pump |
| kenshine-pump | china pump |