300LB Disco Lift Wafer Stainless Steel Check Valve Metal Seat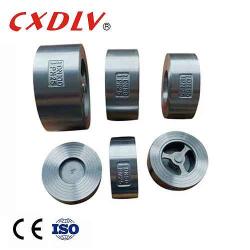 Model Number: H71H
Brand Name: CXDLV
Place of Origin: Zhejiang, China
Minimum Order Quantity: 1
Supply Capacity: 500Pcs/Mon/month
Payment: T/T, Western Union, L/C, D/A, D/P, MoneyGram, Paypal
MemberShip: Gold Member

Bookmark & Share:
H71H 300LB Disco Lift Wafer Stainless Steel Check Valve Metal Seat Description
Check Valves Lift check valves are particularly suitable for high-pressure service where velocity of flow is high. In lift Check Valves,the disc is precisely guided and fits perfectly into the dashpot.Lift Check Valves are suitable for installation in horizontal or vertical pipe-lines with upward flow.
Flow to lift Check Valves must always enter below the seat.As the flow enters, the piston or ball is raised within guides from the sear by the pressure of the upward flow. When the flow stops or reverses, the piston or ball is forced onto the seat of the valve by both the backflow and gravity.
Swing Check Valve has a flat disc that pivots or swings about a hinge pin. They are low cost, and have low head loss characteristics when fully open. But because of the long stroke and inertia of the disc, the traditional swing check valve may slam in vertical pipe installations. These valves are therefore sometimes outfitted with a lever and weight accessoryy. They can handle liquids with solids such as wastewater.
    Check Valve Features                      
XIDELONG H71H LIFT CHECK VALVEModel NoH71HTypeNon-return ValveMOQ1 SetApplicable StandardASMEPort SizeDN15~DN300End Connection WaferWorking PressurePN16~PN64.150LB~300LBMediumWater,Oil,Gas,AirBody MaterialStainless SteelTemp.of Medium-20℃~200℃Trim MaterialSS201/SS304CertificatePED,ISOLogo Laser MarkingAvailable for freeWarranty 1 Year (12 Months